New York's Fiscal Crisis and the Rise of Austerity Politics
On Sale Now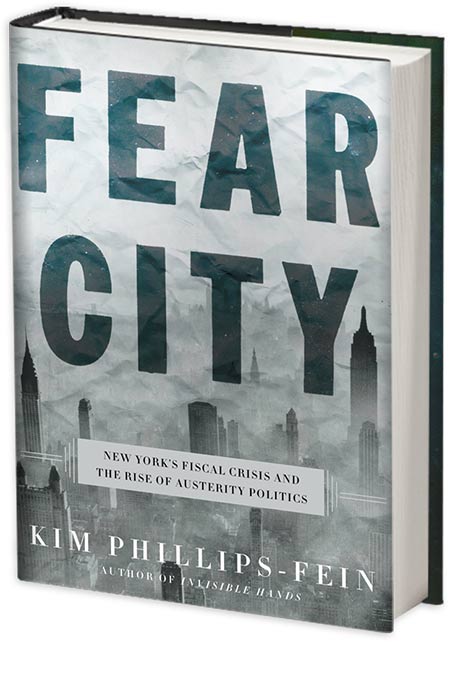 An epic and riveting history of New York City on the edge of disaster–and an anatomy of the politics of austerity that continues to shape the world today
When the news broke in 1975 that New York City was on the brink of fiscal collapse, few believed it was possible: how could the capital of the financial world go bankrupt? And yet the city was billions of dollars in the red. Bankers and politicians alike seized upon the situation as evidence that New York's famous social liberalism was doomed to failure–and promised apocalyptic scenarios if the city didn't fire thousands of workers, freeze wages, and slash social services.
In this vivid, gripping account, historian Kim Phillips-Fein tells the remarkable story of the crisis that engulfed the city, transforming the largest metropolis in the United States and reshaping ideas about government throughout the country. In doing so, she brings to life a radically different New York, the legendarily decrepit city of the 1970s. Drawing on never-before-used archival sources as well as interviews with key players in the crisis, Phillips-Fein guides us through the hairpin turns and sudden reversals that brought New York City to the edge of bankruptcy–and kept it from going over.
At once a sweeping history of some of the most tumultuous times in the city's past, a colorful portrait of the unwieldy mechanics of municipal government, and an origin story of the politics of austerity, Fear City is essential reading for anyone seeking to understand the resurgent fiscal conservatism of today.
Praise & Reviews
Fear City is one of Kirkus Review's Best American History Books for 2017 
Fear City is an Amazon Best History Book for 2017
Fear City is one of Publisher's Weekly's top ten books for 2017
Fear City is a Publishers Weekly pick of the month
Fear City was named one of Amazon's top ten best nonfiction books for April 2017!
Fear City excerpt in New Republic
Fear City is a Publishers Weekly Staff Pick
Fear City is one of the top 10 books featured on the radio program This Is Hell!
Feature in the Christian Science Monitor: When New York City stood on the brink
"A refreshingly counterintuitive point of view…this is a book that deserves an audience beyond New York City history buffs, and all the more so because of its relevance to our political moment."
—New York Times Book Review
"President Gerald Ford's reaction to New York City's fiscal crisis in the 1970s was encapsulated by the classic Daily News headline: "Ford to City: Drop Dead." This analysis of the city's precipitous slide toward bankruptcy focuses on the unique mix of Wall Street's financial power and New York's liberalism, factors that combined both to drive debt ever higher and to alienate great swaths of the country. Phillips- Fein, a professor of history at NYU, isolates the cost of vastly increased public services and the devices (mainly loans) used by multiple mayors (Robert Wagner, John Lindsay, even Abe Beame) to extricate the city from massive debt as being the keys to the economic drama. Austerity efforts did not solve the problems by themselves, nor, as the author points out, did the banks or the labor unions. The author is to be commended for turning a very complex economic subject into a readable text and for giving space to the many citizens affected by the cutbacks…this book offers a grim reminder of what happens when shortsightedness from left and right drive public policy."
— Mark Levine, Booklist
"Phillips-Fein is excellent in her grasp of details…Especially worthwhile is the detailed portrait of Mayor Abe Beame, who is often eclipsed by the much bigger, flashier personalities of his predecessor Lindsay, and Lindsay's tormentor, four-term New York governor Nelson D. Rockefeller…But what is truly original here is Phillips-Fein's conclusion, which is that the city committed civic suicide by turning away from the social safety-net programs championed by Mayor Fiorello La Guardia and beloved by generations of middle-class New Yorkers."
—Newsweek
"Sobering, smart reading with many pointed lessons for activists."
—Kirkus (Starred Review)
The book should be required reading for all those interested in the past, present, and future of democratic politics.
—Publishers Weekly (Starred Review)
"Carefully researched and pointedly critical study…Like a good documentary filmmaker, Phillips-Fein tells a compelling story that combines portraits of key people involved in the crisis with a wider view of the social context in which the crisis took place. The suffering that gripped New York in the 1970s now strangles Greece and Puerto Rico. Phillips-Fein's Fear City is an excellent primer as to the complexity—and human consequences—of such crises.
—New York Journal of Books
"Phillips-Fein's excellent new book, Fear City, vividly depicts a period when New York was seen — not always positively — as an archetypal example of urban liberalism. Much of the emergency that defined New York's mid-1970s character revolved around debt, accounting practices, and municipal bonds, but in Phillips-Fein's hands it is not only exciting but extremely relevant, too."
—Barnes & Noble Review 

"Fear City details how austerity politics tightened the grip of the invisible hand on the throats of the weakest in society in the 1970s. But Phillips-Fein reminds us this outcome was not inevitable at the time. And it need not be today."
—LitHub
"In Fear City, Kim Phillips-Fein adds her voice…she contends that the crisis of the 'seventies has been exploited by foes of social justice to the present day.  Citing debt crises in Greece, Puerto Rico and Detroit, she notes that they argue that austerity is "the only option" to avoid municipal default. To Phillips-Fein, theirs is "a political choice," not an economic. Vividly described, well-written…this account of the crisis adds depth and authority to the many accounts already available."
—History News Network
"Phillips-Fein lays out the battles for the soul of New York, with unions and ordinary citizens fighting against the cuts that elites desired. She details all the last-minute machinations and backroom deals that solved the fiscal crisis…The interesting thing about the timing of this book is New York is in danger of losing federal funding for various reasons. Could it lead to another fiscal crisis and will it have ripple effect across the country?"
—brooklynfans.com
"Phillips-Fein, a historian teaching at New York University, challenges the conventional view that most New Yorkers were united in "repudiate[ing] an older tradition of irresponsible altruism" and "accepted the need for austerity and chipped in.""
—prospect.org
"Phillips-Fein, an associate professor at New York University, has crafted one of the best history books of the year out of one of the ugliest periods in New York City history. Aspects of this story reverberate into present dilemmas — on the local, state and national levels — as austerity measures take center stage as possible solutions to deficits and shortfalls."
—Bowery Boys History
"Fear City is the best account of the New York City fiscal crisis of the 1970s and, more than that, an indispensable contribution to understanding the rise of austerity economics and the long decline of the public sector. Kim Phillips-Fein shows how New York became the testing ground for market-based responses to urban problems. This is a history with huge implications for the remaking of American politics and economics in our time."
—Thomas J. Sugrue, author of Origins of the Urban Crisis
"Fair, thorough, incisive, and stylish, this is the best book to read not just on New York's fiscal crisis of the 1970s, but about how bankers became our unacknowledged legislators ever since."
—Rick Perlstein, author of Nixonland and The Invisible Bridge
"The remaking of New York City under cover of crisis was a prelude to what would become a global economic tidal wave. In zeroing in on this little-understood chapter of urban history, Fear City helps sheds much-needed light on a range of contemporary crises, from the starvation of public services amidst enormous private wealth to the rise of Donald Trump. Kim Phillips-Fein is a historian of the first order."
—Naomi Klein, author of The Shock Doctrine and This Changes Everything
"A tour de force. If you want to find the roots of modern conservatism, don't look in Louisiana, Arizona, or rural Wisconsin. Look in New York, and read Kim Phillips-Fein's superb Fear City. New York in the 1970s, as Phillips-Fein compellingly shows, was the first sustained victory in the New Right's long war against the New Deal. Extremely well written and impressively researched, Fear City is essential reading to understand how finance capital, real estate speculation, austerity budgeting, and punitive policing first came together to create the toxic politics of today."
—Greg Grandin, author of Fordlandia and Kissinger's Shadow
"Fear City provides the definitive account of the moment when New York City liberalism ran out of momentum and money, and the conservative reaction that has culminated in Donald Trump began. Phillips-Fein chronicles not only the tense dance with municipal bankruptcy but the largely forgotten efforts by ordinary New Yorkers to stop the legal coup by local and national elites. Lucid, elegantly written, full of new information, it belongs on the shelf of key books about the city, alongside The Power Broker, Gotham, and their like."
—Joshua B. Freeman, author of American Empire and Working-Class New York
"This revealing narrative of New York's transformation from working-class social democracy to the glittering home of fancy finance reminds us that behind the mask of austerity there always lurks a bitter politics of class."
—James K. Galbraith, author of The Predator State and Welcome to the Poisoned Chalice
"The story of New York's financial crisis in the seventies is really a story about the role of cities in America today.​ ​New Yorkers pride themselves on being cosmopolitan, on welcoming immigrants, on being willing to spend money on education, healthcare, and infrastructure. Kim Philips-Fein convincingly explains why that caused problems for the city in the past and why now we need New York values more than ever."
—Joseph E. Stiglitz, author of Globalization and Its Discontents and The Price of Inequality
"Before there was Reagan, before there was Thatcher, there was New York City's fiscal crisis. Here we can see the blueprint for what has since been done to the entire world. This is the story of how the gears were shifted and the age of liberalism put into reverse, told with all the engrossing details, all the forgotten characters, and a memorable style."
—Tom Frank, author of What's the Matter with Kansas? and Listen, Liberal